---
---
Prescott-area Film Festival to Benefit a Friend in Need
By
localcrew
|
Feb 23, 2011
February 23, 2011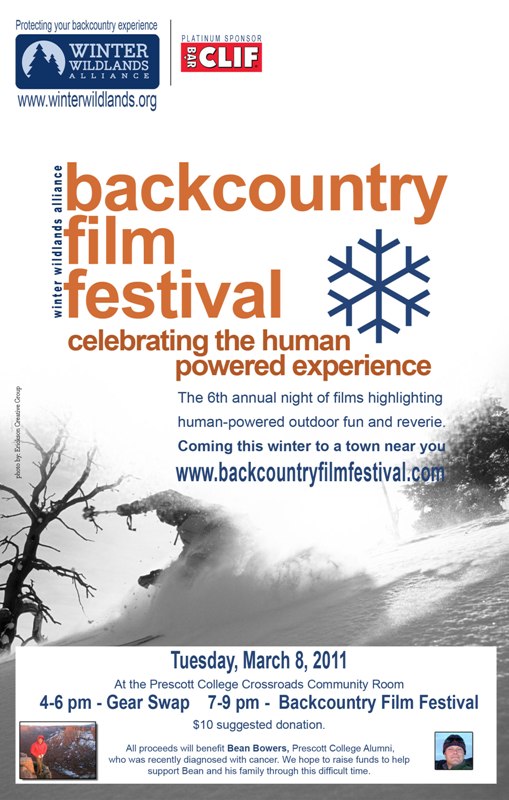 A close friend of Patagonia is currently facing a fight for his life. A Patagonia Climbing Ambassador, past NOLS instructor, and outdoor photographer, Bean Bowers grew a fast and large circle of friends through his combination of irrepresible energy and positive spirt. A backcountry skiing accident in December resulted in a broken femur, a serious injury that was quickly eclipsed by complications that arose during his recovery. It was then that a large brain tumor was discovered. The tumor has been removed, but Bean's fight has just begun. Bean has been diagnosed with renal cancer and friends are rallying to support him as he faces an incredibly difficult fight, and the staggering medical bills that go with it.
His alma mater, Prescott College, in conjunction with some of Bean's friends and colleagues, is helping to host a fundraiser Gear Swap and Film Festival to provide support in his fight for life.
 
March 8th, 2011 -  Afternoon and Evening in Crossroads Community Room
 
GEAR SWAP – 4-6 PM
BACKCOUNTRY FILM FESTIVAL – 7-9 PM
 
Bean's Prescott friends and loved ones are urging anyone who can to please come and join the rally to help one of their extended family members. There will be a raffle or silent auction of donated goods. To participate in the Used Gear Sale, contact John Farmer or David Lovejoy. Sellers are asked to contribute 10-20% of their earnings to the cause. The suggested donation for Backcountry Film Festival attendess is $10/person – give more at the door if you can. All proceeds will go directly to Bean.
Bean's climb to recovery is just beginning. As he said in a recent note to friends: "Just feed me the rope, I'll get it up there!"
« Operation Algeria – Part Four Bigger than El Cap – A (totally unscientific) search for the lower 48's biggest rock faces »