---
---
Patagonia Bike to Work Week 2015 – #ridehard4adam
Jul 16, 2015
July 16, 2015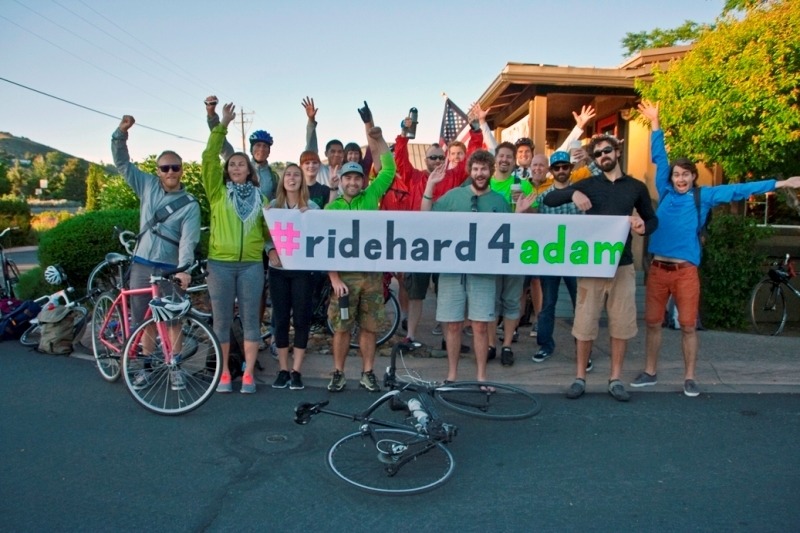 Reno D.C. Recap
By Gavin Back
As with most years, Patagonia celebrated a belated Bike to Work Week (B2WW) due to business conflicts. And yet again we had fantastic participation. Here in Reno, we collectively rode 4,586 miles but the crown deservedly goes to our North American retail stores who together rode 5,833 miles—with extra kudos for our Freeport store colleagues who rode a huge 1,176 miles! For every mile ridden, Patagonia donated $1 to a local cycling orientated non-profit. This year, the Reno D.C. mileage money went to the Tahoe-Pyramid Bikeway, a non-profit that is spearheading construction of a bike path along the river Truckee, starting at Lake Tahoe and finishing at Pyramid Lake.
Upon arriving at work on the Monday of B2WW, we received the worst possible news. One of our colleagues, Adam Excell in Toronto, had been struck and killed by a driver while cycling over the weekend.
Above: Reno coffee riders honor Adam Excell. See more photos from Patagonia employees around the world at #ridehard4adam. Photo: ©Tyler Keck
Many of us choose to bike instead of driving to a gym to exercise, or to save money, or because instead of being cocooned inside a metal box we prefer to be outside listening to the early morning birdsong. Others choose to cycle because they see too many cars on the road emitting poison into our atmosphere. Whatever our reasons might be, and whatever precautions we may take to be safe and visible, we are nevertheless at the mercy of drivers. Regular cyclists develop a sixth sense that recognizes certain traffic patterns or areas that may become hazardous, but that is not always enough.
Despite this sobering tragedy, the riders in Reno were as numerous and enthusiastic as ever. Every morning we ran out of parking spots on the bike racks, breakfasts provided by various departments were heartily consumed, swag was collected and raffle tickets strategically dropped in envelopes. Our week was finished off in style. A group ride, organized by Cassie and Lauren Carroll, to work from a nearby coffee shop had great participation.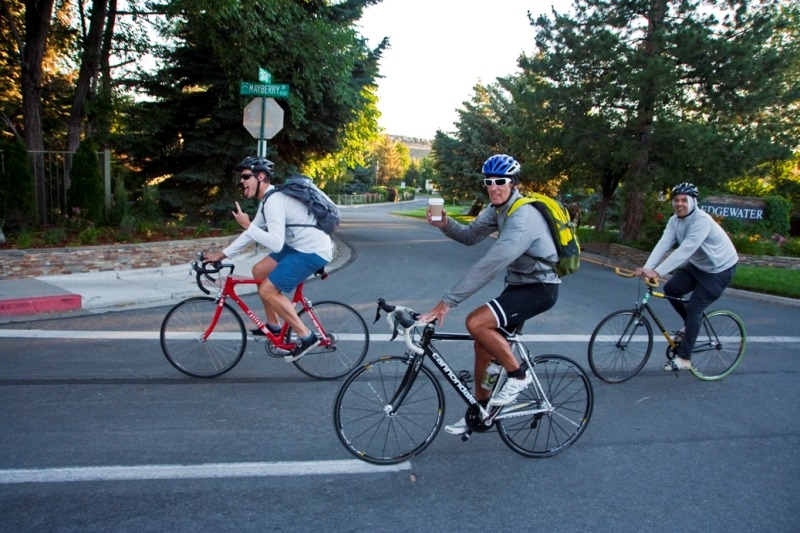 Photo: ©Tyler Keck
Later in the day we wrapped up the week with a celebration of cycling and the week's participants with music from "Formerly Known As," beer and bike races (kudos to Chia Snyder for organizing the races this year). Raffle prizes were drawn. The popular winner of the New Belgium bike was B2WW committee member Maggie and the secret bonus swag bag was won by Evan Hancock. A huge thank you to all of our generous sponsors who donated prizes and Maggie for all her hard work liaising with our partners. We were lucky enough to receive prizes from:
Everyone would also like to extend a huge thank you to Eric Carter who generously gave up two afternoons the week prior to B2WW to do bike tune-ups—a daunting task given the bike use and abuse of the Patagonia crew in Reno.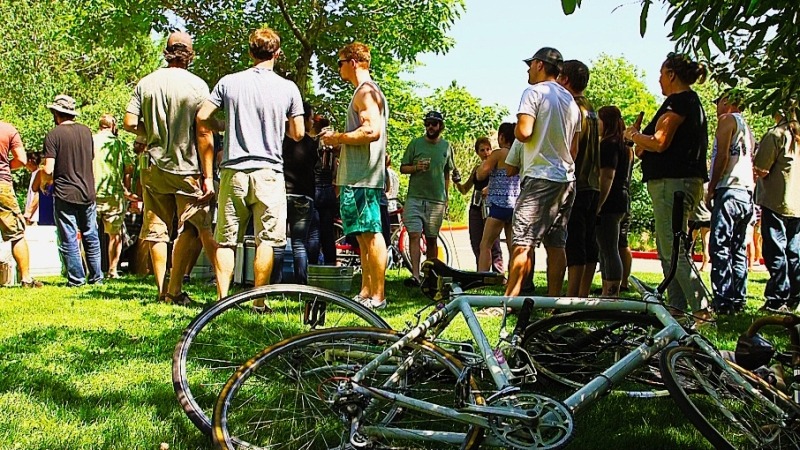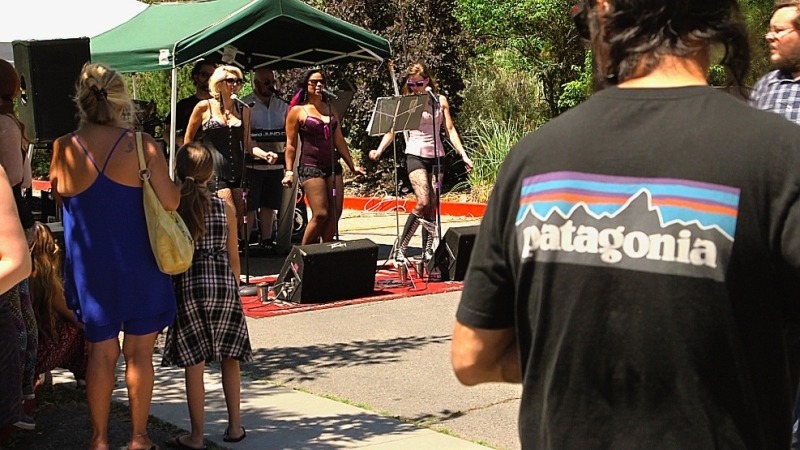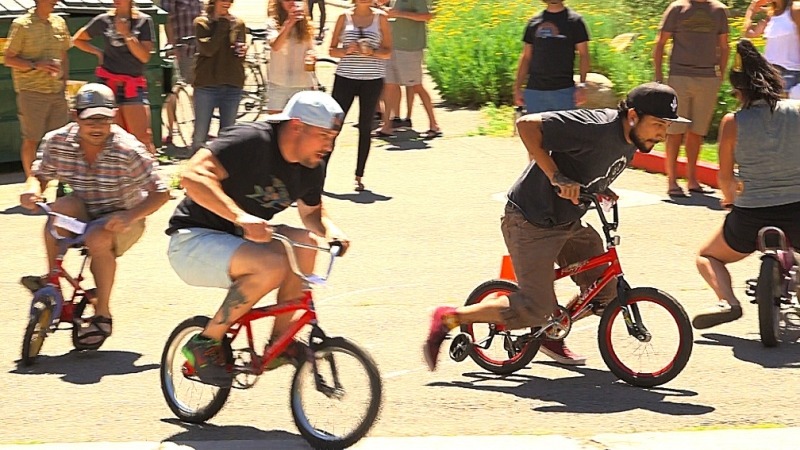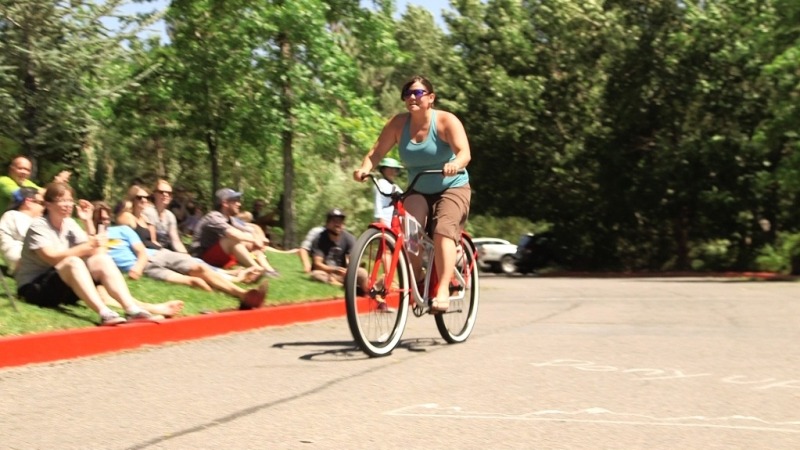 Photos: ©Marcial Reiley
Finally, once again, we all owe a huge thank you to Kim Jardine-Reiley who every year tirelessly heads the organizing committee for B2WW (and many other events too).
We're already looking forward to another year of cycling. And remember, a bike is for life, not just Bike to Work Week!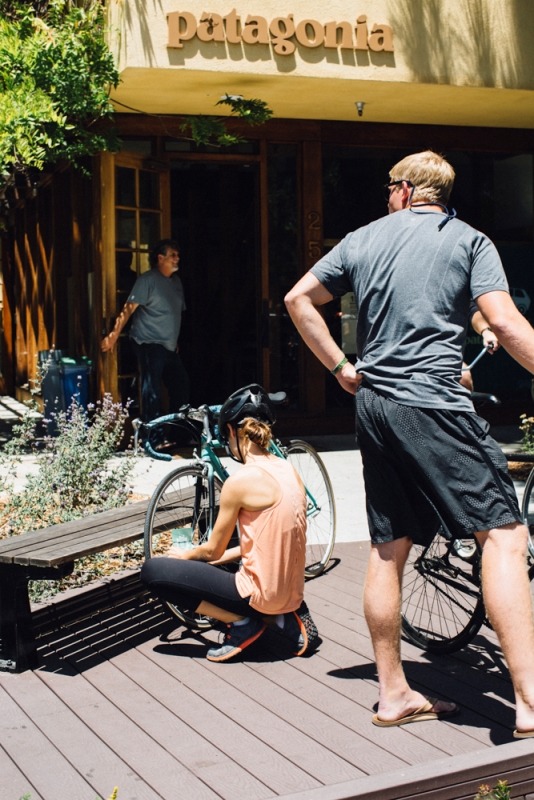 Ventura Recap
By Allison Rowe
This year's B2WW is dedicated to our colleague Adam Excell, Assistant Store Manager at Patagonia Toronto, who we lost in a tragic accident at the start of the week. Adam's passing was a tremendous loss for the Patagonia family.
Above: Chipper Bro sends off the memorial ride for Adam in Ventura. Photo: Kyle Sparks
To commemorate Adam, all Friday miles were donated to the Toronto store. In addition, Friday memorial rides were organized by Patagoniacs throughout the world to remember Adam and celebrate the adventurous life he lived. Pictures tagged on Instagram with #ridehard4adam show amazing support from people riding in all corners of the world, including our co-workers in Japan, our wholesale distributors, our retail stores throughout the U.S., our European team, folks up in Reno and our Provisions crew. The pictures highlight the beautiful spoke cards created in honor of Adam inspired by his artwork and creative pallet. For each memorial mile ridden, $1 was donated in memory of Adam to a local Toronto nonprofit. Patagonia rode 1,301 miles in memorial rides on Friday, an impressive and amazing contribution in honor of Adam.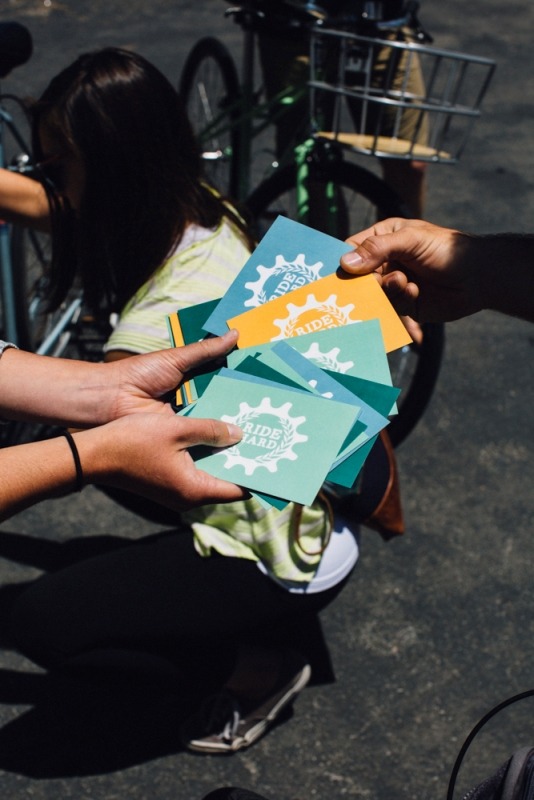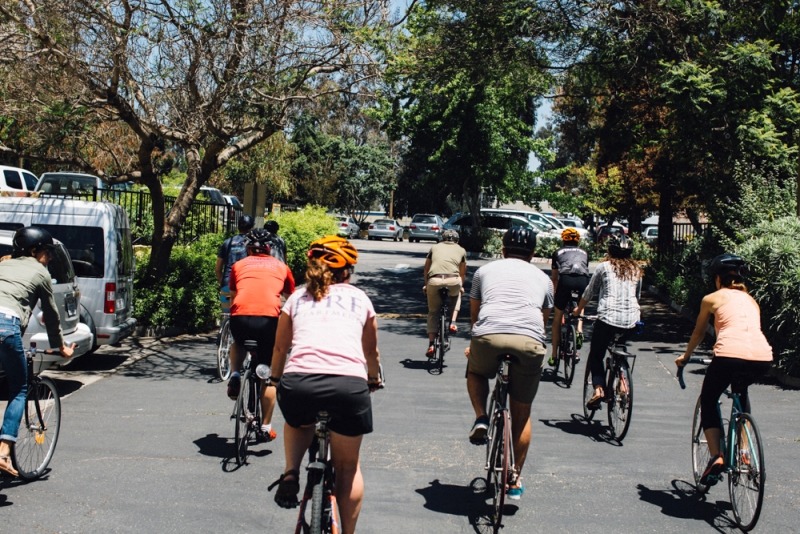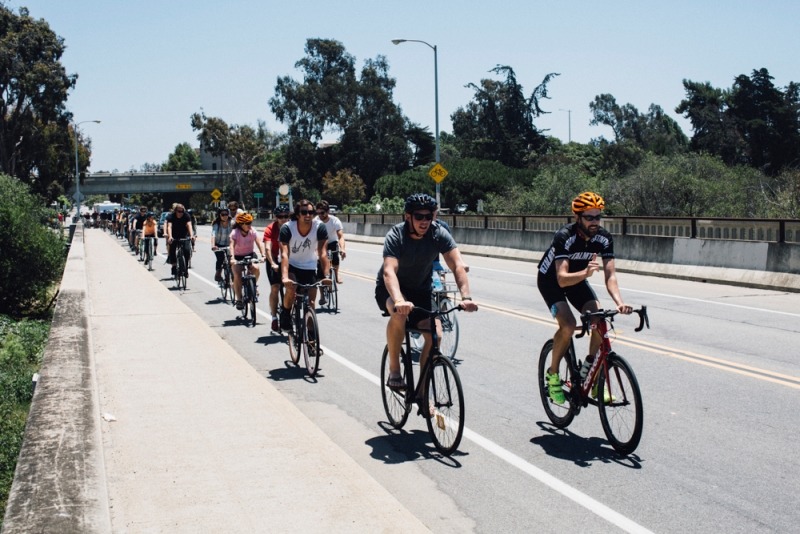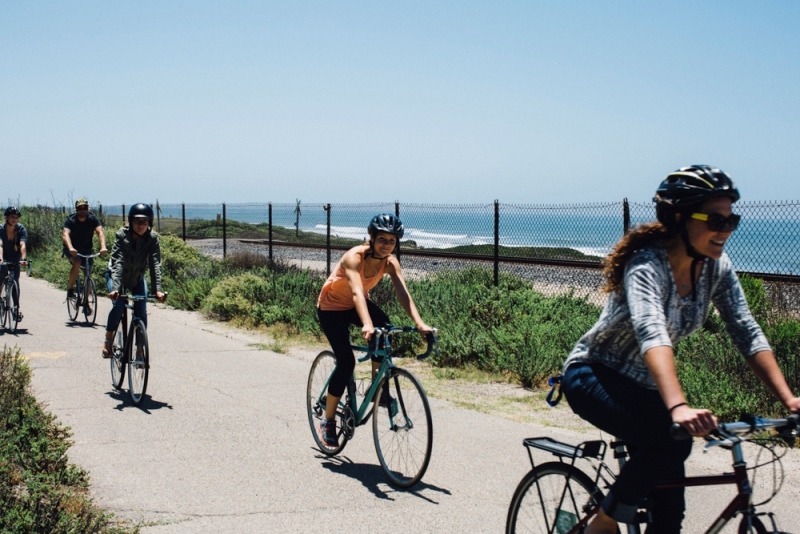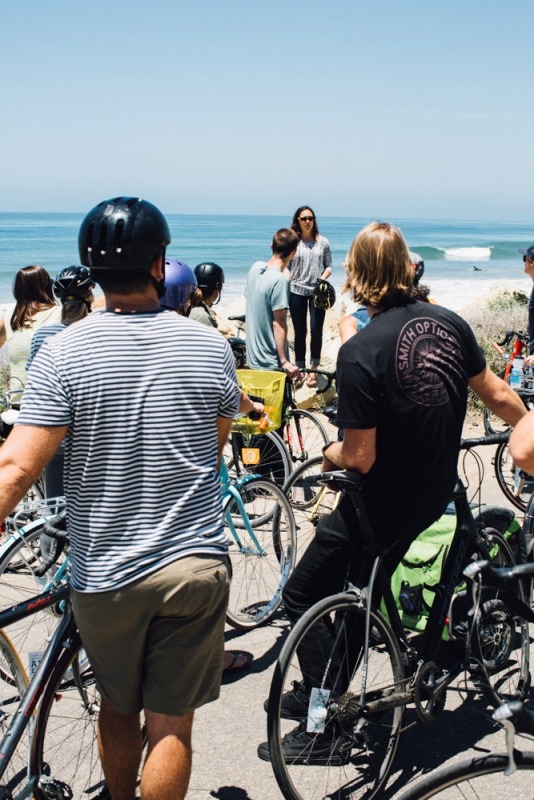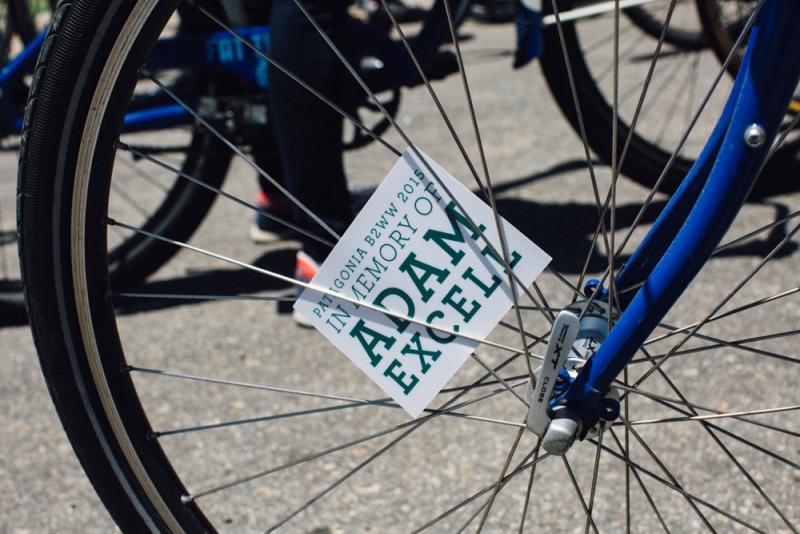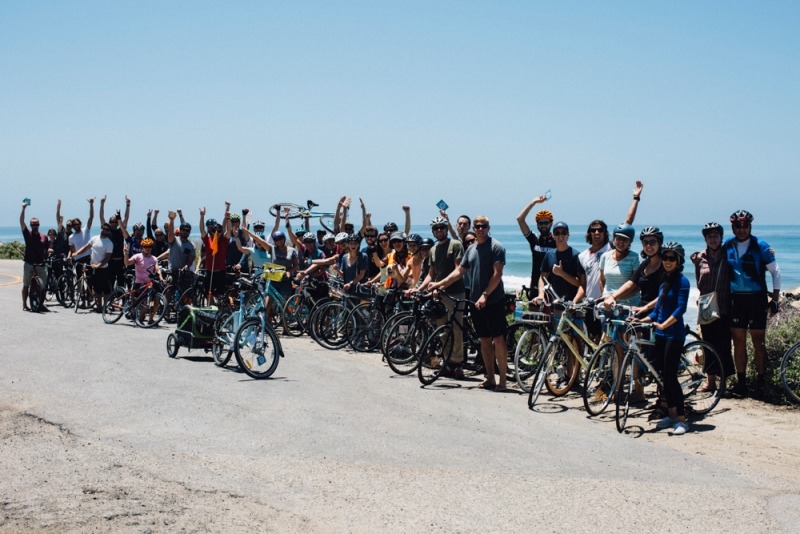 Ventura Memorial Ride for Adam. Photos: Kyle Sparks
 
B2WW 2015 was an inspiring, successful week in Ventura. Riders increased their mileage from last year to 1,965 miles, representing a 32% increase in miles ridden. It appears that the gap between Ventura and Reno might be shrinking and with a few thousand more miles, we might just catch up next year.
The Ventura campus was alive with fun events focused on bicycle advocacy and greener living. Raffle tickets were awarded to those who biked to work (wearing a helmet got you two tickets) and prizes were called each day to lucky winners. Riders also were treated to delicious breakfasts provided by local vendors and departments within the company. A huge thanks goes to the accounting department, materials and SER departments, Patagonia Provisions, Sambazon Juices, Prospect Coffee, Corrales Mexican Food, Justin's Peanut Butter, and the many folks who helped fuel hungry riders!
Events to excite and inspire biking included a tie-dye party, a road bike lunch ride (AKA Team Spandex Ride), a critical mass ride to the pier for fish tacos, Trek tune-ups, and an all-campus party with taquitos, beer from newly opened Topa Topa Brewing Co., and a host of vendors. A huge thank you goes out to our buddies at Trek for spending all day tuning up our bikes.
The Child Development Center promoted B2WW through awesome sidewalk art and fun helmet advocacy and bike safety clinics for the kids.
We continued our support for local bike advocacy group, VCCOOL. This year, Ventura donated $1,965 to VCOOL to advance bike safety and accessibility in our area.
Finally, a HUGE thank you to our B2WW Committee this year: Paul Hendricks, Juli Farley, Allie McCarthy, Heather Shields, Amanda Russell, Ramara Nadone, Bhagvati Khalsa, Chipper Bro, Chris Kaiser, Corey Simpson, Courtney Merritt, Marcela Riojas, Ryan Thompson, Tara McGrady, Tracy On and Ryan Carroll.
James Adam Excell 1988-2015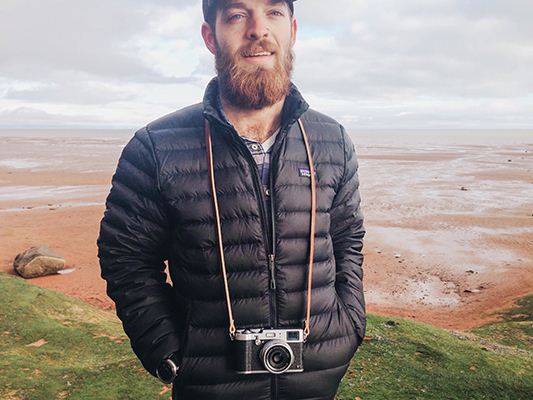 You can help honor Adam's life by remembering and living by some of his words: "nature is calling," "ride hard," "get wild," and "create meaning." Adam knew that life was a celebration and we invite you to celebrate Adam's life with a gift to the Nature Conservancy of Canada.

Memorial bike ride for Adam Excell. Toronto, Canada. Video: jnyyz
#ridehard4adam
« Beauty in a Blurry Photo – Merging climbing, science, and conservation in Mozambique Respect for the Past . . . and Rules to Protect a Sacred Place »