---
---
Celebrating Bike to Work Week 2011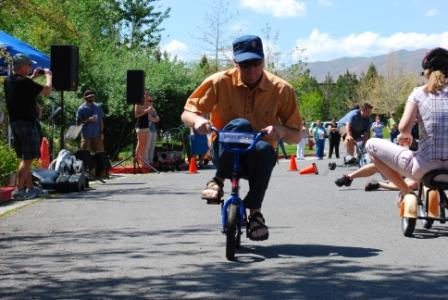 We celebrated our most successful Bike to Work Week event ever this year with riders, walkers, runners company-wide tallying over 11,991 miles! Employees in Ventura logged in 2,262 miles; Reno logged in 2,155, our U.S. and Toronto retail stores combined logged in 7,151 and our 35 colleagues in Annecy, France added 681 kilometers (just over 423 miles).
We introduced a new component this year, the Bike to Work Week Challenge Grant, in which our Ventura headquarters, Reno Service Center and all of our North American retail stores partnered with a local non-profit bicycle advocacy organization in which Patagonia donated $1 for every mile an employee pedaled or walked. Through this program, we were able to donate at total of $11,991 with individual grants to 29 hard-working bike advocacy groups such as VCCOOL, Reno Bike Project, Bikes Not Bombs  and Trips for Kids.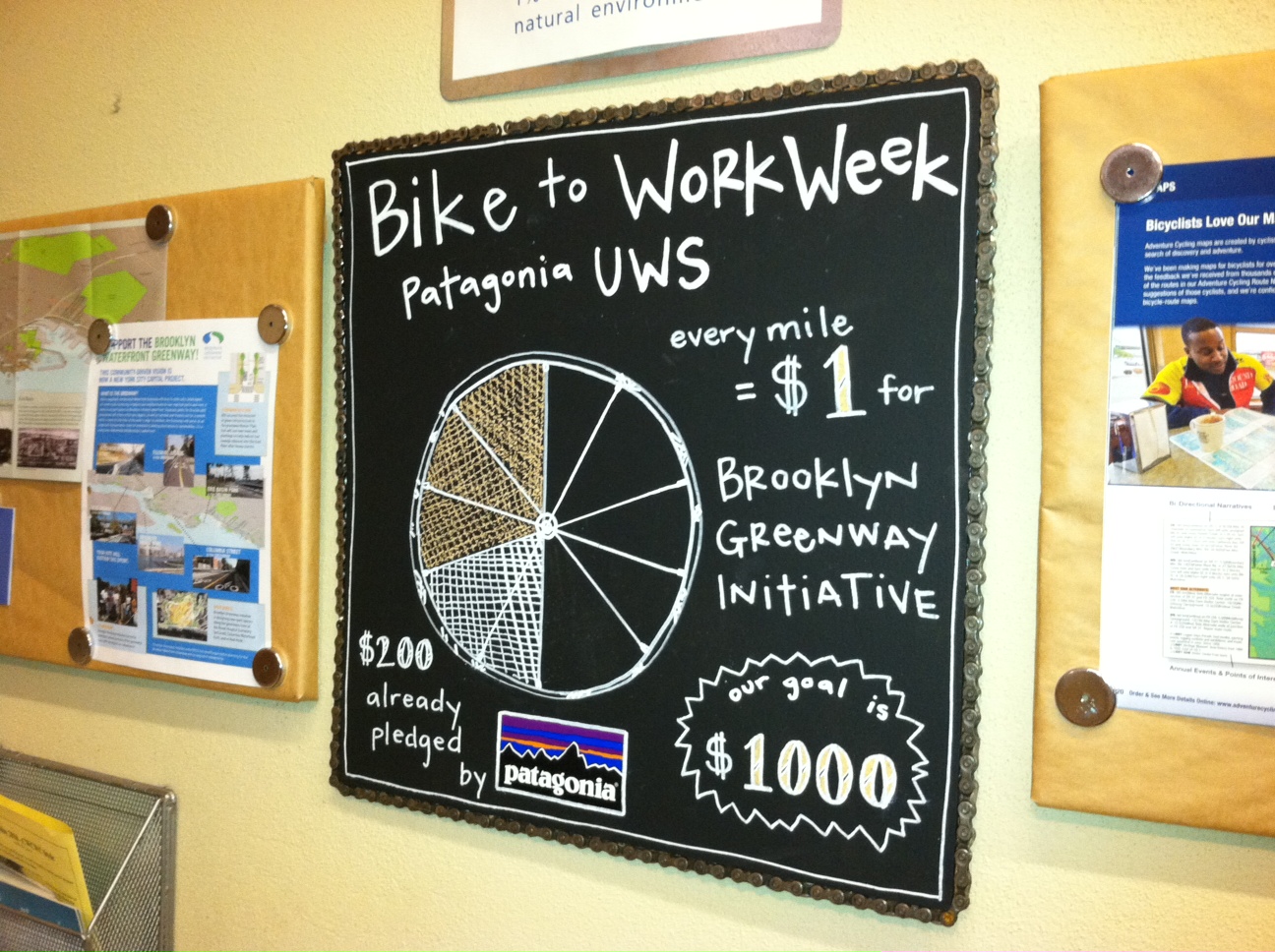 [A bike-chain blackboard that the Patagonia team from our Upper West Side store put together to track their cycling progress.]
In environmental terms, over the course of Bike to Work Week, 11,991 miles of riding or walking saved our employees over 464 gallons of gas and prevented over 9,018 pounds of CO2 from being emitted into the atmosphere over the course of the week – not to mention the health and social benefits.
In Ventura, employees kicked off the week prior with a Do-It-Yourself Bike Fix-It clinic, where our mechanically-gifted employees helped everyone get their bike ready to hit the road the following week. The folks at SIDI America, the renowned cycling shoe company made a special guest appearance to offer hands-on shoe fittings and a free pair of socks. During the week, riders were greeted by free delicious breakfasts donated by several different departments, a group lunch ride mid-week, a special safety clinic for the kids at our on-site daycare center and finally, a party to wrap up the week with good music, good food, and great beer from New Belgium Brewery. The raffle rewarded the participants for their hard work throughout the week.
Employees at our Reno Distribution Center welcomed back – with no small amount of enthusiasm – a similiar round of Bike to Work Week festivities, including a group critical mass ride and the always hotly contested end-of-week tricycle race.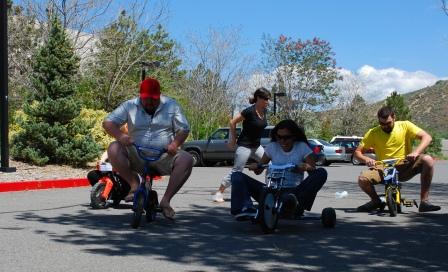 [Stepping on the gas – and sometimes each others' toes – in the heat of competition at this year's Tricycle Races. Photo: Ron Hunter]
Our European team participated in different sort of contest – one in which their office was pitted against other companies located in the business park where Patagonia Europe offices are located. The winner would be the company with the highest number of kilometres covered during the week. And though small in number, our European office proved mighty in competitive spirit. They successfully retained the 'trophy' they won last year and boasted an impressive 60% office-wide participation. And without question, their party included the bitchinest live music: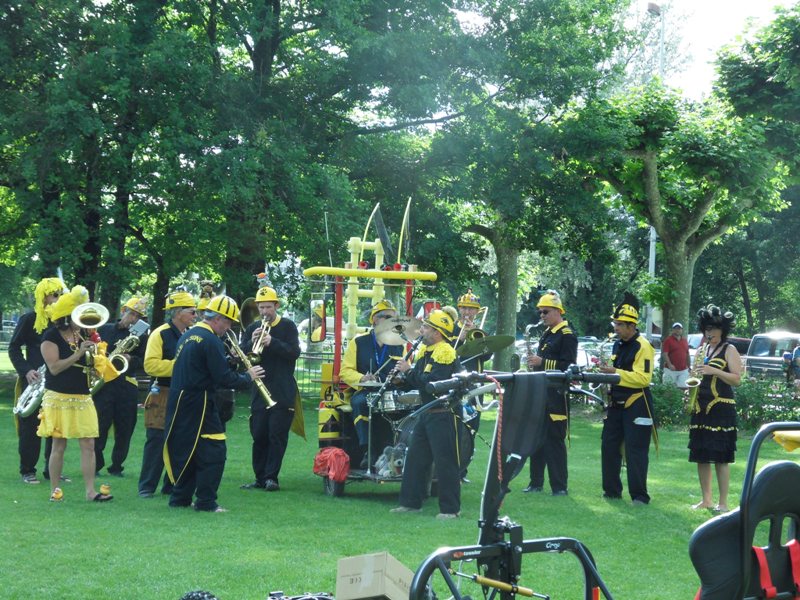 [Part of Patagonia Europe's Bike to Work Week festivities. Photo: Jonathan Petty]
We had several generous companies donate some great prizes to motivate employees throughout the company including:
New Belgium Brewery
Planet Bike
FSA
Rickshaw Bag
Lake Cycling Shoes
Wald
BoB Trailers
Light and Motion
Burt's Bees
SIDI
Patagonia's Drive-Less Program
In addition to Bike to Work Week, we recently launched an incentive program designed to motivate our employees to use alternative transportation all year long. This program is designed to provide financial incentives to employees who reduce their use of fossil-fuels by choosing to use alternative transportation to commute to and from work, rewarding employees who choose to walk, bike, take public transportation, or carpool. For every trip made, either to or from work, employees receive $2.00, up to $500.00 (pre-tax) per year.
Needless to say, the announcement of this new incentive shortly before this year's BTWW put the capital "S" in this year's Stoke. 
Scroll down for more pictures from this year's festivities: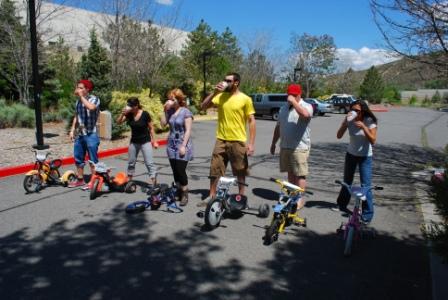 [The competition's intense – athletes try to get all the energy drink they can on board before the starting gun fires. Photo: Ron Hunter]
« Kohl Christensen Reports on the Dam Protests in Chile – Take Action to Keep the Pressure On Dirtbag Diaries: The Shorts – Penance »