---
---
2014 Bike to Work Week Recap
Jul 28, 2014
July 28, 2014
Reno Recap
By Gavin Back
The numbers are in from Patagonia's Bike to Work Week and this was the Reno DC's best year yet!
We had a total of 118 people riding for a total of 4,550 miles ridden. This means a total of $4,550 donated to an awesome local non-profit, the Kiwanis Club. Kiwanis seeks to promote cycling and bike safety, and distributes bikes to children in the Reno area. We would like to thank the members of Kiwanis who took time to visit the Reno DC prior to Bike to Work Week and helped Casey and Eric tune our bikes. All four of you did a great job keeping us safe on the road—thank you.
Despite bragging being somewhat gauche: Ventura, you guys need to step it up!
To put the efforts of the Reno riders into perspective, consider that there are roughly four times more Patagonia employees in Ventura than Reno yet we cycled a little over three times as many miles. And distance to work is no defense, Reno riders averaged twice as many miles as Ventura, with at least two people in Reno cycling over 30 miles per day. The daily Bike Bus, organized by Brenden, provided newer cyclists a fun environment to commute with more experienced cyclists, and be shown quick, safe and attractive routes to work.
Ventura, the Reno DC B2WW committee hereby formally challenges you all to "bring it on" next year. The more you ride, the more your environment benefits, the more money your local bike non-profit receives and the less embarrassing the Cleanest Line blog posts!
Below is a video summery of our week and photos of our prize winners. We had a lot of fun between breakfasts provided by different departments, swag for riders and the 2nd Annual Fix-a-Flat race hosted by Celia Johnson and won by Chad Swanson. One of the highlights of the week was Dan Malloy's visit to the Reno DC and the presentation of his movie, Slow is Fast. If you haven't seen it yet, everyone here highly recommends watching it.
The week was wrapped up with a big party and a Pirate Relay Race, and in true pirate fashion there was rum, chaos and blood! The winning teams were Ashley, Eric and Adam in first place; Sarah, Jenna and Ethel in second place; and Kamil, Ray and Jaimie in third place. We were entertained by the DC's own bluegrass band, Goathead Revival—surely a reference to the devilish thorns that are the bane of Reno cyclists.
We had a huge array of raffle prizes, too many to list the individual winners, but we would like to extend a huge thank you to all our sponsors:
Nite Rider
Reno Aces
Klean Kanteen
Timbuk2
LÄRABAR
Juniper Ridge
Amazing Grass
Honey Stinger
Planet Bike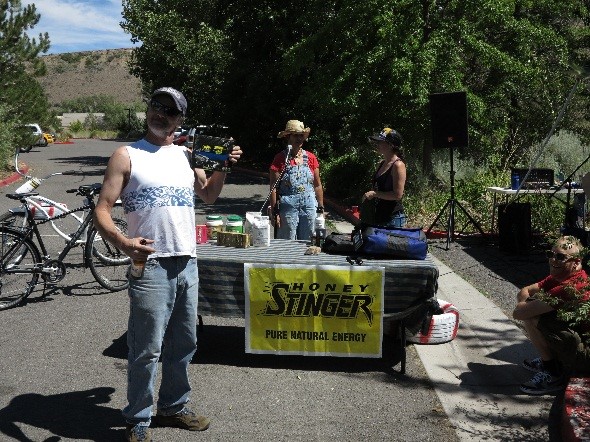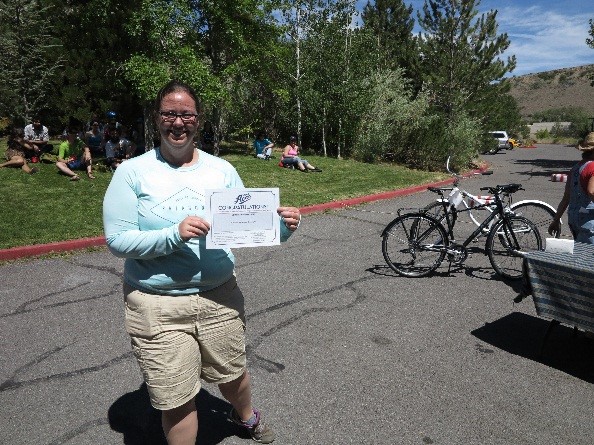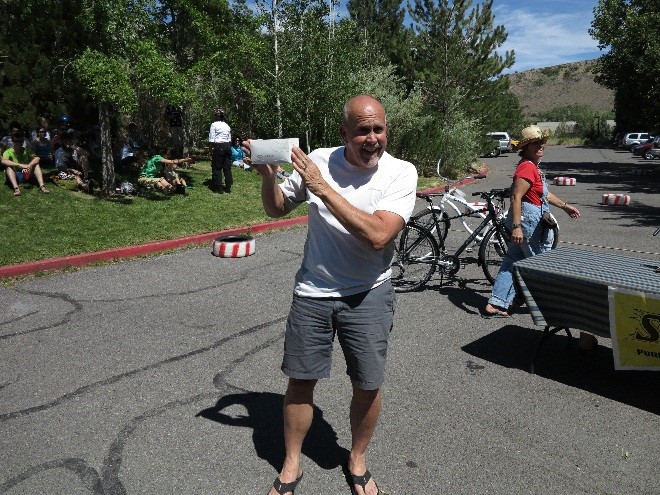 We had two grand prizes of bikes donated by Kiwanis and Velo Reno. To qualify, riders had to ride to work every day during bike to work week. The winner of the beautifully restored cruiser bike donated by Kiwanis was Chelsea Sauls in the repairs department, and the winner of the fantastic Giant Escape City commuter bike donated by Velo Reno was Erik Krahn in customer service. We had a fantastic turnout so competition for the bikes was high! We would like to extend a massive thank you to Kiwanis and Velo Reno for their generous help and support.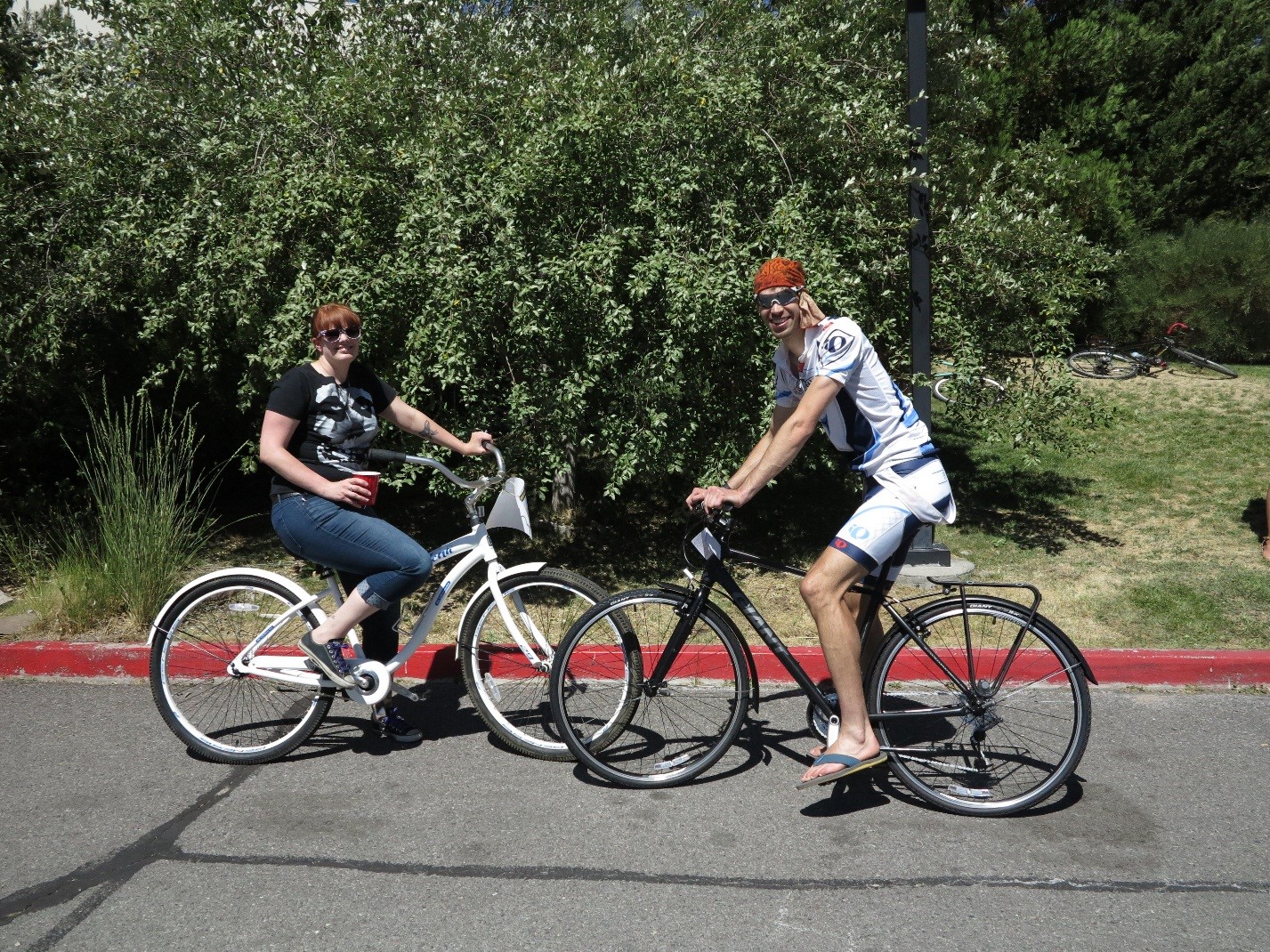 Please enjoy the video put together by Tyler…
If you want to check out more or Tyler's images, check out his personal blog: tylerdkeck.blogspot.com.
We look forward to next year's event, and as Chris Miles of Goathead Revival fame said: "If you can ride all week, you can ride all summer."
Retail Recap
By Cory Gould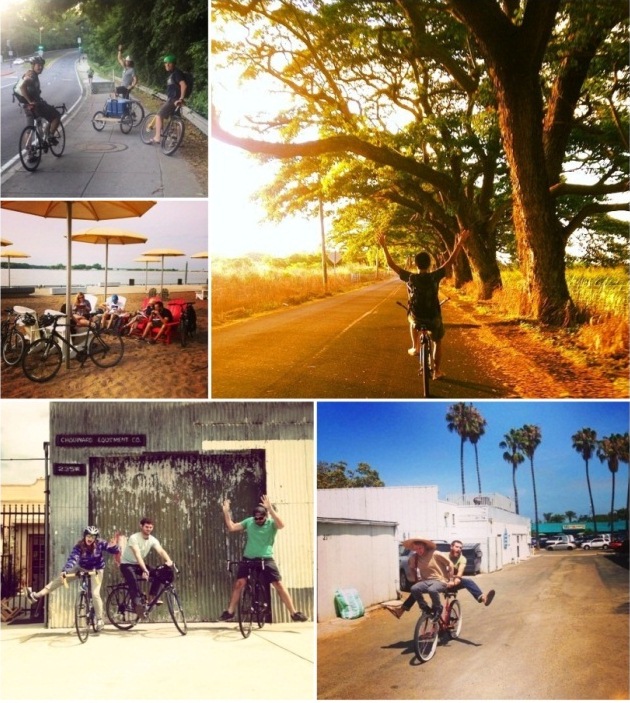 Top left: Gang from Washington, DC. Middle left: Chillin' in Toronto. Bottom left: Hands up in Ventura. Top right: Sunshine in Haleiwa. Bottom right: Doubling in Cardiff.
Another Bike to Work Week for Patagonia has come and gone, but many of us who work in the retail stores continue to enjoy our human-powered modes of transportation long after this week of celebration ends. We bike, we walk, we run, we board or blade—some of us all year round—because we crave to be outside and love the lifestyle.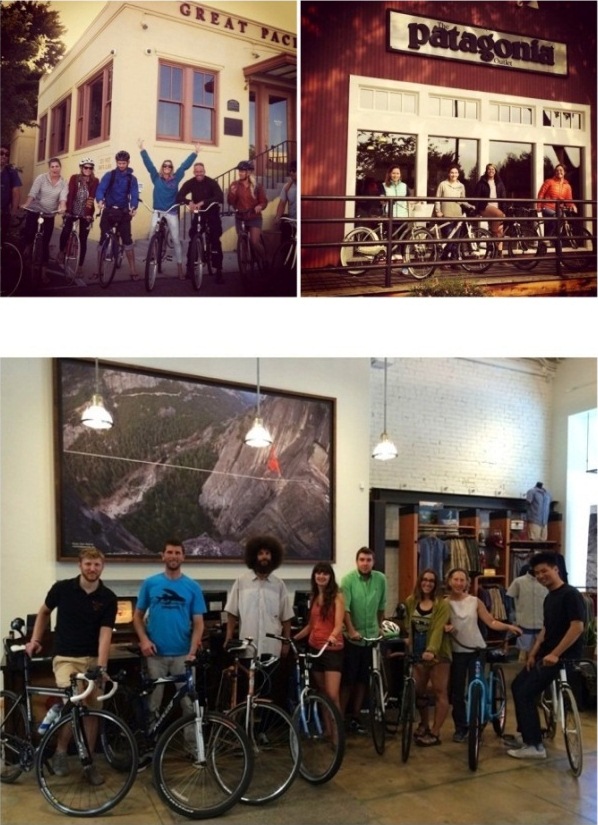 Top left: The Ventura crew enjoying their rides. Top right: The crew at Santa Cruz showing off their wheels. Bottom: Santa Monica crew just chillin'.
It has been another successful year as we pulled in a total of 8,218 miles for the retail stores. As part of our commitment to community engagement and environmental activism, all those miles spent pedaling our bikes through traffic, walking the streets or rolling down the beachfront, add up to $13,618 of grant money to local cycling groups.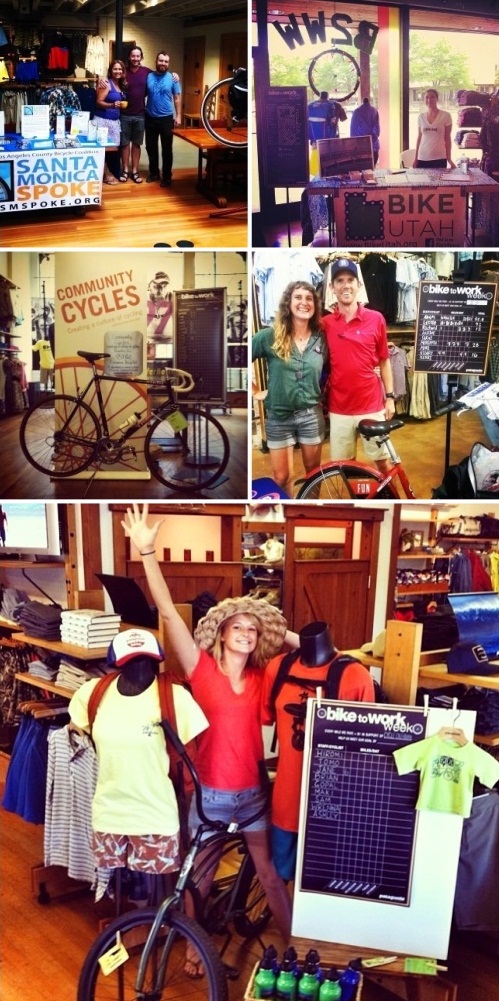 Top left: Santa Monica Spoke. Top right: Bike Utah. Middle left: Community Cycles Boulder. Middle right: Austin B-Cycle. Bottom: Cycle on Hawaii.
With many of the cities we work in participating in their own bike month or bike to work days, it seems as though the momentum is making a shift towards more livable communities. We need to continue to support these cycling advocacy groups in order to keep this momentum going.
We are very grateful that we work for a company that supports the development of a cycling culture within its stores and promotes the use of human-powered transportation in various ways.
A few shoutouts to Freeport for cruising to a total of 1,260 miles for the week and to SoHo, Toronto and Bowery stores for 100% participation!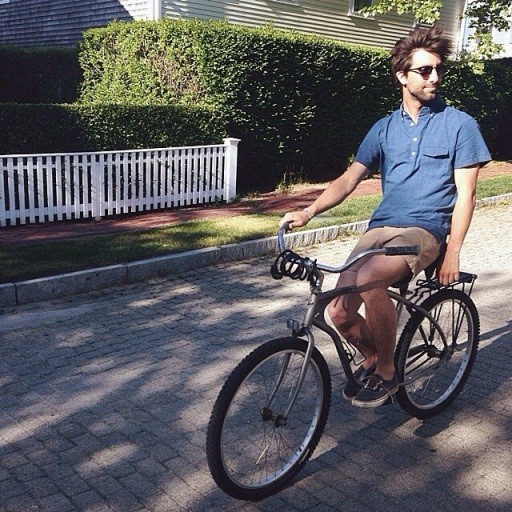 Cruising to the Bowery store.
Lastly, a big thanks to the BTWW committee and all the point people who made this year great! Keep riding, keep cruising and enjoy every moment.
Ventura Recap
By Paul Hendricks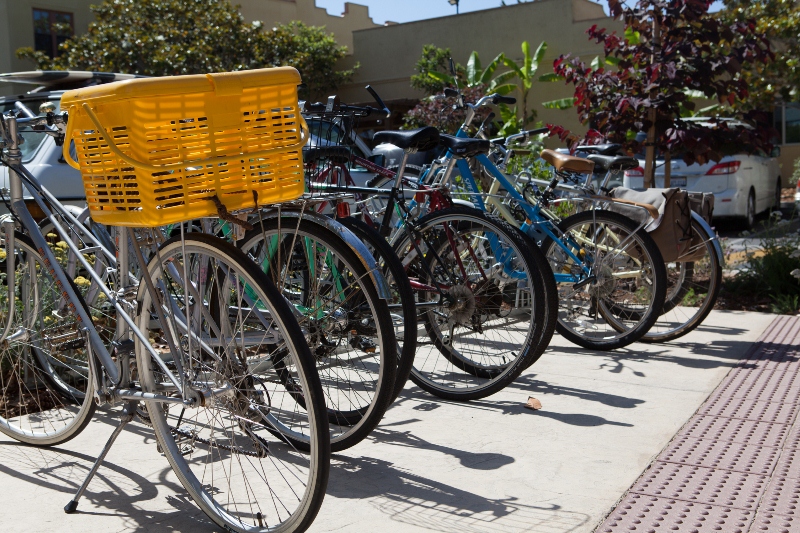 B2WW 2014 was another great one in Ventura. The bike racks were full and the parking lot had plenty of open spaces throughout the week. This year, the riders at the Ventura HQ biked 1,434 miles. Despite not beating our very collegial and gracious colleagues up in Reno, this was a 36% increase from last year, so we'll take it.
We had a number of great events on campus that inspired more sustainable commuting and rewarded those who put some pedal power to their commute. Each day, local vendors (and the accounting department who always comes through) provided breakfast for the riders. Thanks to Patagonia Provisions, Citizen Juice, Justin's Peanut Butter, Sambazon, and Kate's Breads for providing great eats all week.
The B2WW Committee stepped it up a notch this year and planned great events throughout the week including beer and movies (The Road to Karakol and Fixation), a Bike Swap, a fiesta capped with taquitos and cerveza from Kona Brewing Company, a critical mass ride for fish tacos on the pier, and mimosas and baked goods (apparently we took the "B" in B2WW to mean both bike and beer). We also have to send a huge thanks to our friends at the local Trek shop who put in LONG hours tuning up all of our bikes for free.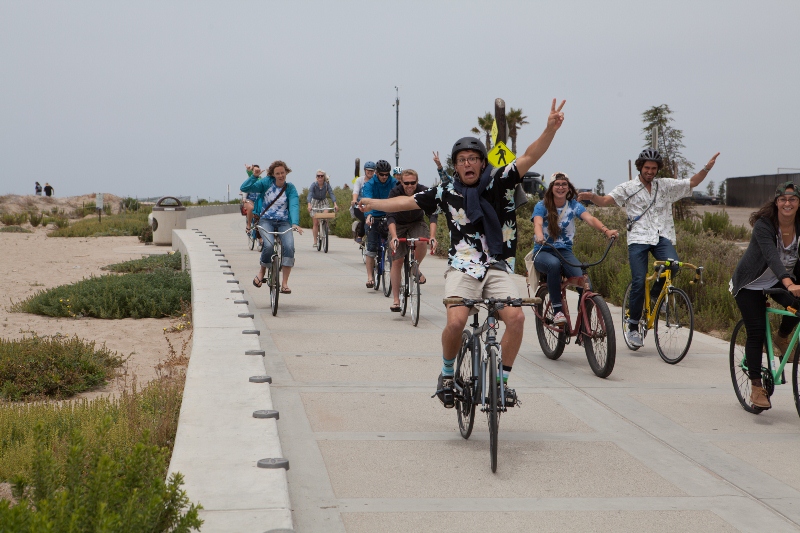 It also wouldn't be B2WW in Ventura without our child development center decorating campus and showing us all how fun it can be to ride your bike.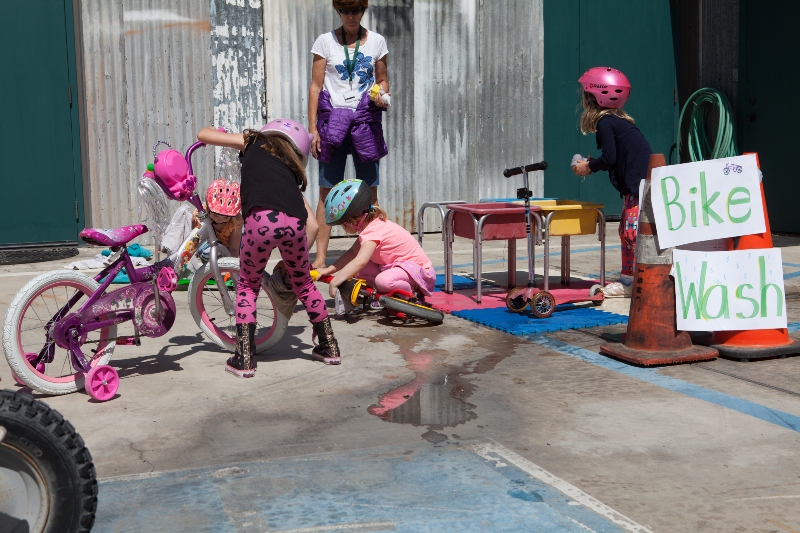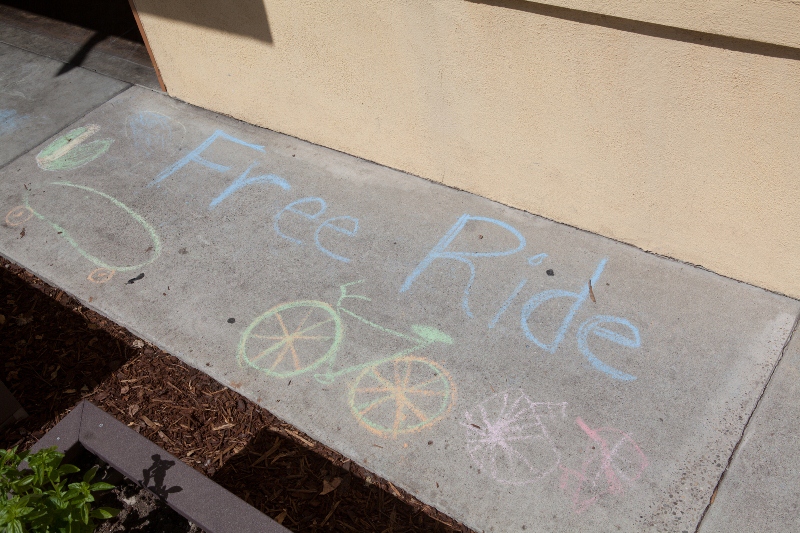 While riders were stoked out with free swag for riding in all week, the big winner was our local bike advocacy group, VCCOOL, who received $1 for each mile we rode throughout the work. Thanks to VCCOOL for all the great work you do making biking more accessible and safe in the area.
A big shout out goes to our B2WW Committee for knocking it out of the park this year:
Allison Allen
Amanda Russell
Ben Galphin
Chipper Bro
Chris Kaiser
Corey Simpson
Courtney Merrit
Lane Bussa
Lindsey Kern
Marcela Riojas
Matt Dwyer
Ryan Thompson
Tracy On
And, a special shout out goes to our rock star rider, Bug, who rode 30 miles every day!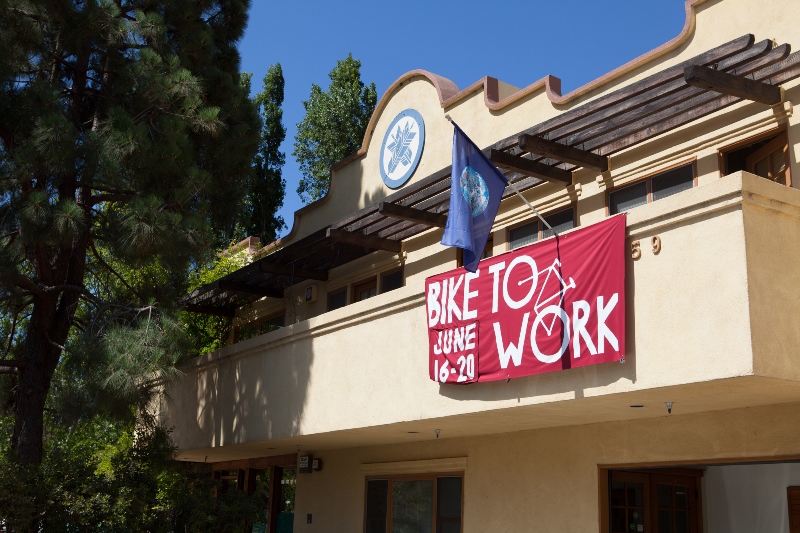 « Solutions Series, Part 5: Taking Action A River Reborn – Floating the Elwha River after dam removal »