---
---
Keeping Our Waters Swimmable – Bioswale Project at Patagonia HQ and Swimmable California Day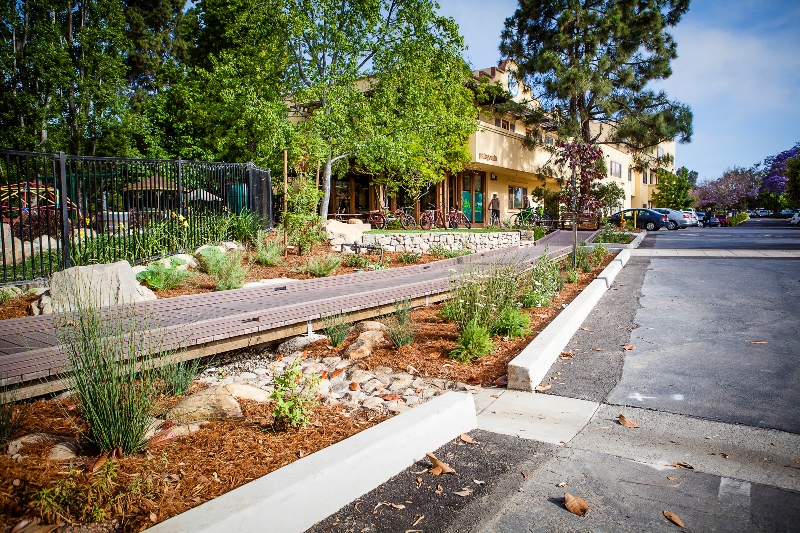 Over the past couple of years, and recently through the Our Common Waters campaign, Patagonia has focused our attention on one of the more challenging water pollution issues: stormwater runoff. When rainfall hits an impermeable surface – such as a parking lot, roof or sidewalk – it runs off, carrying with it all sorts of unsavory stuff: trash, animal waste, oil, gasoline, detergents, pesticides, chemical residues, and heavy metals like copper and lead. Basically, everything on the surface is washed away. This stormwater runoff flows to the lowest point in the area which is usually a storm drain. And from there it flows into a channel, a creek or river, and in coastal areas directly into the ocean without being filtered or cleaned.
Polluted runoff is the number one source of contamination to California waters. Contamination from polluted runoff at Southern California beaches sickens approximately one million swimmers every year. Here in Ventura, where our headquarters are located, swimmers and surfers are strongly advised to stay out of the ocean for 72 hours after it rains. And polluted runoff to the coast threatens California's $40 billion ocean-based economy. California Coastkeeper Alliance is partnering with businesses like Patagonia to get the word out about these serious health and economic impacts and tackle polluted runoff.
This is our ocean, our coast, and our local rivers and streams. It matters to us what's going in our waters.
With encouragement from California Coastkeeper Alliance, the California Legislature passed a resolution to officially commemorate July 25th as Swimmable California Day. Swimmable California Day recognizes the importance of clean and healthy waters for swimming and other activities – also one of the original goals of the Clean Water Act.
Patagonia is celebrating Swimmable California Day by unveiling improvements to our Ventura headquarters that make our local waters more swimmable and surfable. Our headquarters are about an eighth of a mile from the Ventura River, which flows directly into the Pacific Ocean. We have worked with Santa Barbara Channelkeeper, our local Surfrider Chapters, the Environmental Defense Center, and many other local partners for years to clean up and protect the Ventura River and nearby coastal areas. And in the Let My People Go Surfing spirit (our founder Yvon Chouinard's book), our employees often take the quick walk down the block from the office to the beach, to surf during their lunch break or between meetings and project work.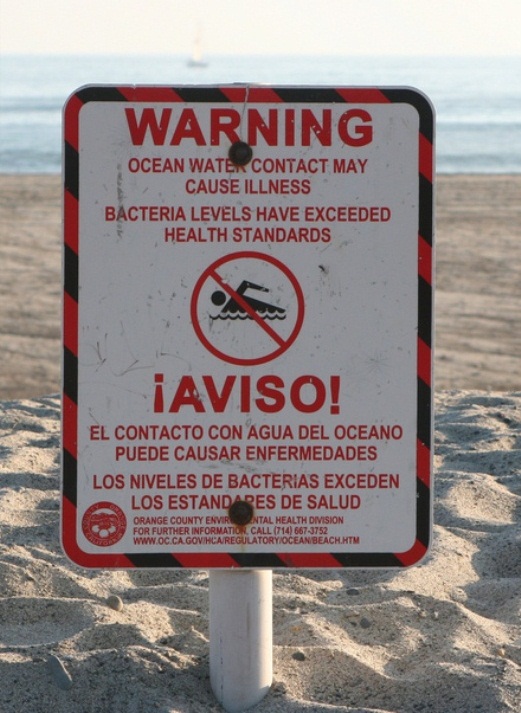 One of our recent efforts is to reduce some of the polluted runoff that flows from our parking lots and roofs. A number of years ago, we replaced two sections of asphalt in our parking lot with permeable cement, which allows rainwater to percolate through and into the soil instead of rushing into storm drains, and ultimately, to the nearest river or coastal area. But the permeable pavement only fulfilled one of the three tenets of the Surfrider Foundation's Ocean Friendly Gardens "CPR" formula to revive watersheds and the ocean (conservation, permeability, and retention).
This year, we challenged ourselves to find an even better solution. The Ocean Friendly Gardens program was one of our key inspirations as we began our research. As Paul Herzog, Surfrider's Ocean Friendly Gardens National Coordinator, shared, "We want to mimic nature, such as a stream. Natural shapes – curves and ups and downs – as well as rocks, mulch and plants allow water to slow, spread and sink. Soil, with lots of microorganisms and organic matter, acts like a sponge, helping to filter pollutants and absorb water for plants to tap into during dry periods. The same goes for breaking up hard surfaces. Compared to sticking a filter on the end of a stormwater pipe, doing this throughout a watershed is cheaper, more effective, generates jobs and creates green spaces for people to enjoy."
After much research and consultation with our local non-profit partners and experts in landscape architecture, we decided to use bioswales for our project. Bioswales are low-lying channels that drain runoff. They contain soil on top of gravel layers that together with plants and mulch allow stormwater to soak into the soil, which naturally filters it. The first ¾-inch of rainfall for the season is often referred to as the "first flush," when most pollutants deposited during the dry season are washed off parking lots. Our bioswales are designed to capture and filter the first flush of an average rainfall event, and meet all three CPR tenets: conservation, permeability and retention.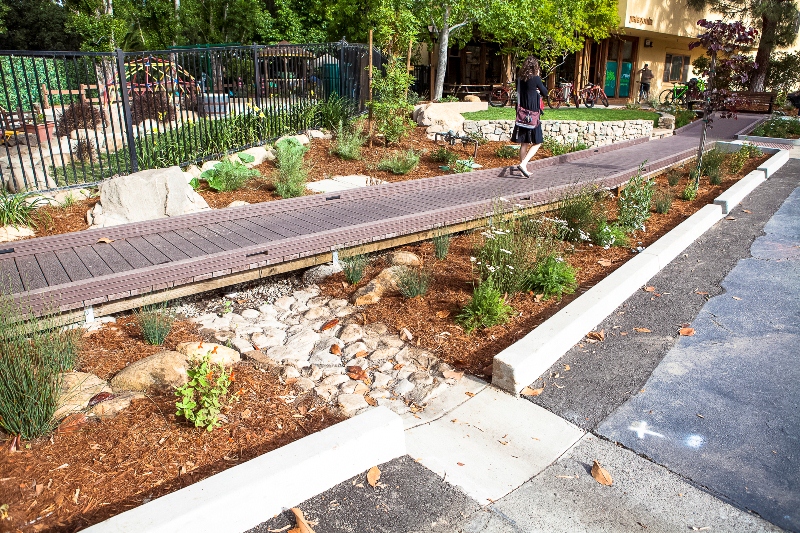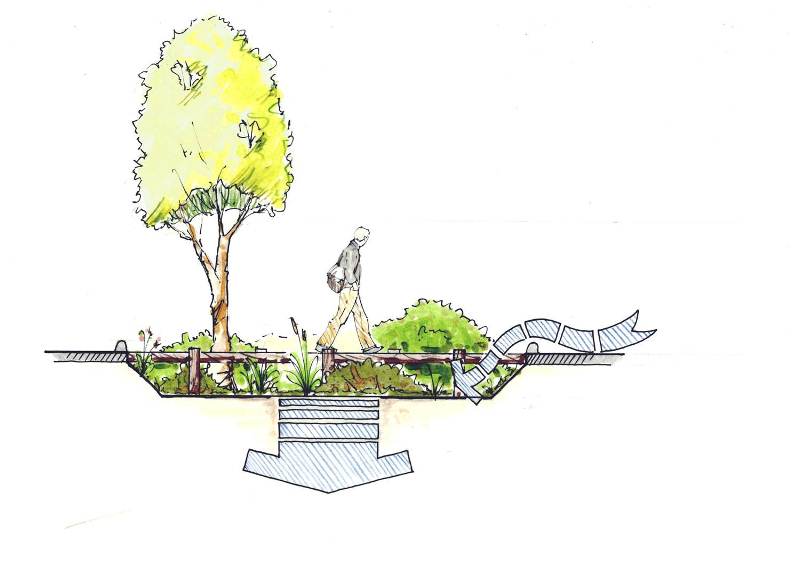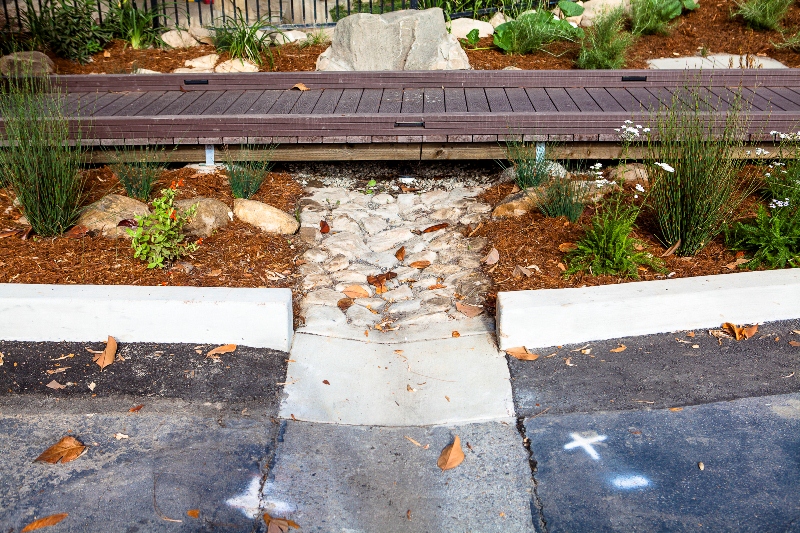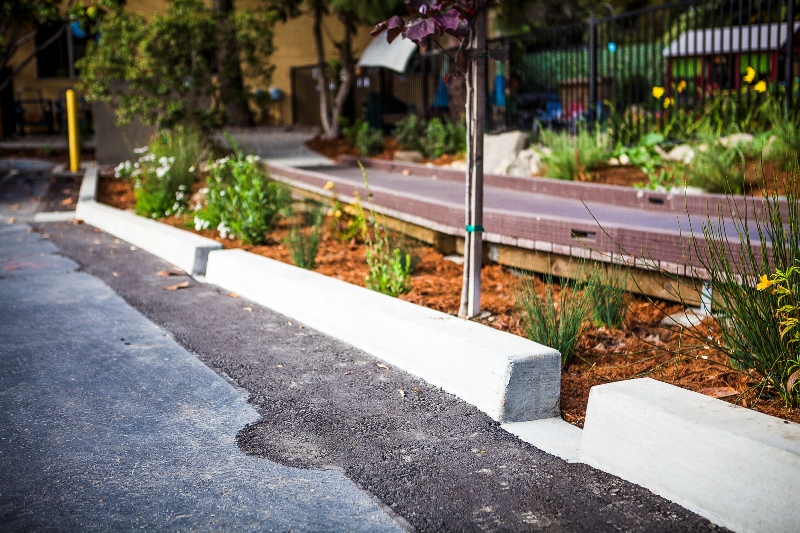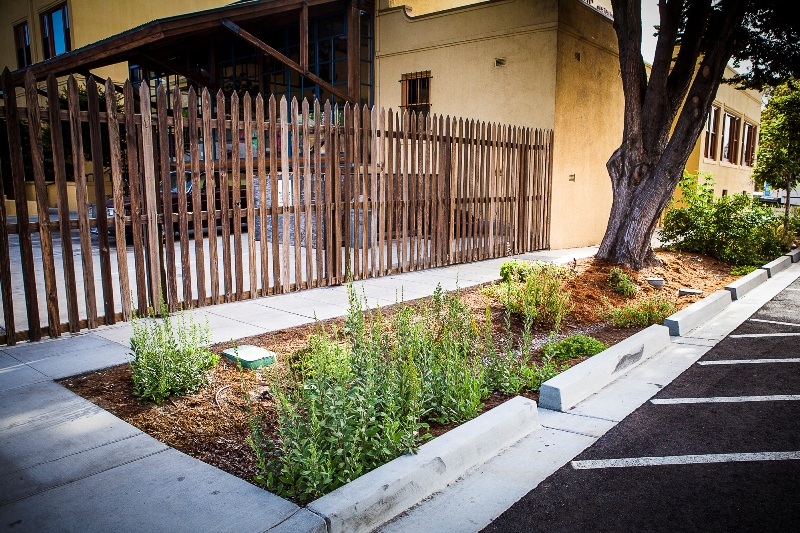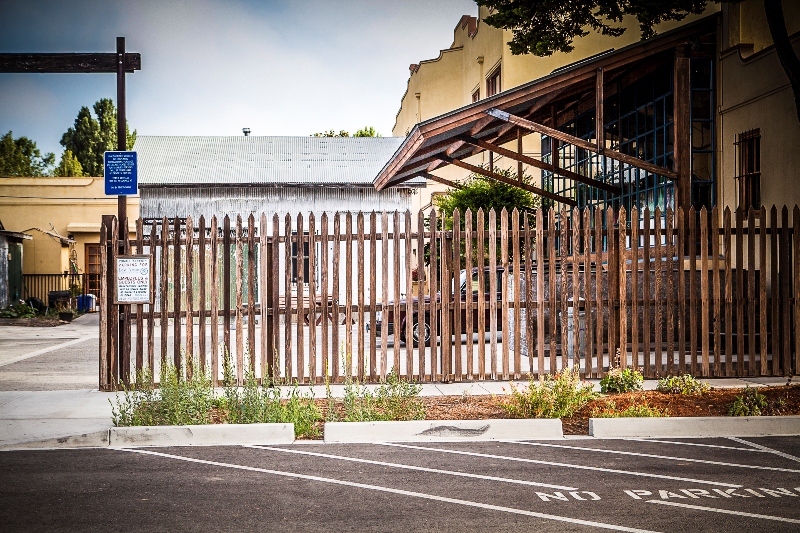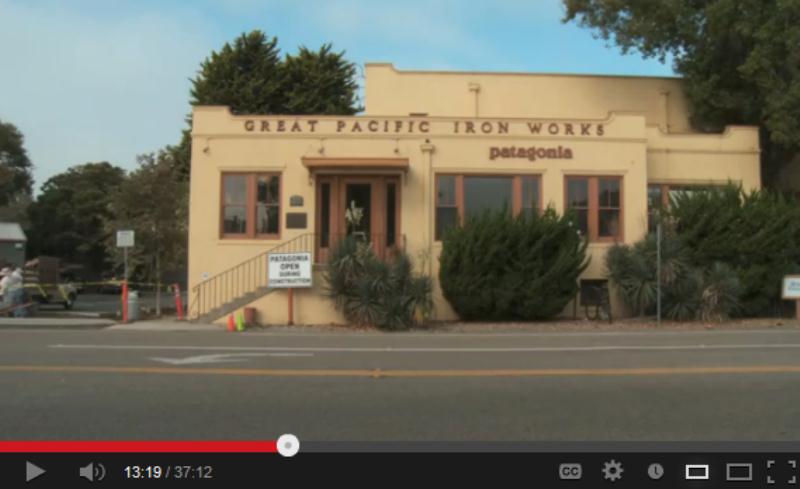 We finished installing the project recently and have found that tackling polluted runoff makes for a more colorful and enjoyable landscape. Now Patagonia's Ventura campus has a whole array of native plants that filter pollutants out of stormwater, including coyote brush, concha California lilac, chalk dudleya, California buckwheat, red flowered buckwheat, island alum root, and scarlet monkeyflower.
We know there's still some runoff from our property, but we're making headway to reduce that impact, and our local waters are now more swimmable. This is encouraging, particularly when we head down to the beach for that next big swell…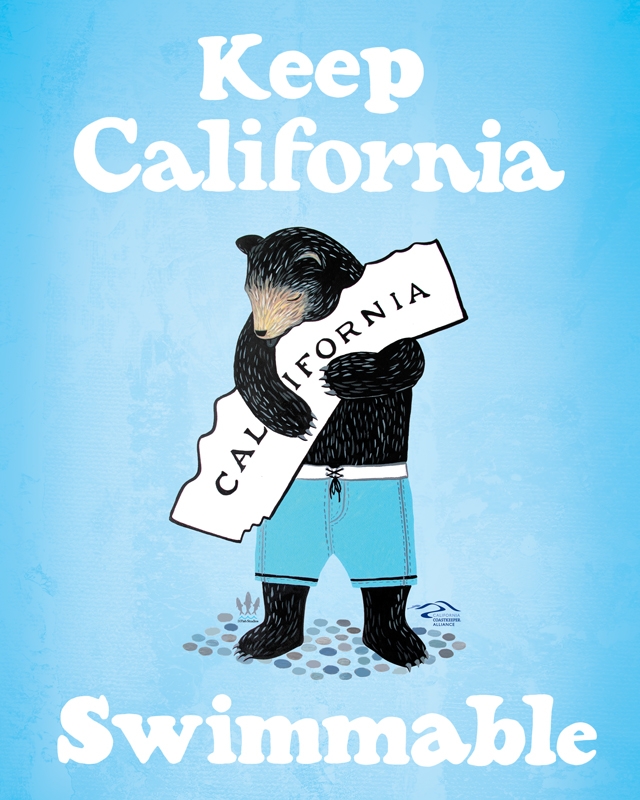 Take Action for Swimmable Water
LEARN – Check out the online resources from Patagonia's Our Common Waters campaign.
DOWNLOAD – Swim, surf, stand-up paddle, snorkel, fish, splash, dive, or wade in your local waters. Find your nearest swimming spot with the Waterkeeper Swim Guide smartphone app.
#TAG & SHARE – If you live on California's coast, share photos of how you enjoy our world-renowned coastal areas, bays, rivers, and creeks with California Coastkeeper Alliance. Upload photos through the end of July on Facebook, Twitter and Instagram with #SwimmableCA. CCKA will announce a grand prize winner on August 1, as well as top swimmable pet and youngster entries, and wettest photo.

TIPS – River rats, water-lovers and surfers outside of California can participate as well. Waterkeeper Alliance has some simple steps all of us can take to reduce our personal stormwater pollution.

WATCH – Surfrider Foundation Ventura Chapter has created a video that illustrates the benefits of transforming your yard into an Ocean Friendly Garden.
« Re-Imagining Rubber – PLUSfoam's Flip-Flop Recycling Revolution Slow is Fast – 2013 Book Tour Dates [Updated with Event Photos and Ordering Info] »